January 9-16, 2008
home | the papers | metro santa cruz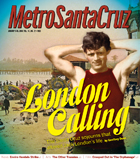 London Calling
How Jack London's little-known sojourns to Santa Cruz changed his life.
Every Day They're Hustlin'
In Santa Cruz's So Fresh, the hip-hop crowd finally gets its own clean well-lighted place

Forest Grumps
First pepper spray, now slashed tires — the struggle over more development at UC Santa Cruz is getting ugly
Nūz: Santa Cruz County News Briefs
Blaming the moth spray for illness, recycling those Christmas trees and more.

Getting the Creeps in 'The Orphanage'
Echoes of 'Pan's Labyrinth' in the new year's big Spanish import
Unmoved
'The Diving Bell and the Butterfly' plumbs the depths of ego and the hell of paralysis

MORE MOVIE REVIEWS

SANTA CRUZ COUNTY MOVIE TIMES

The Band Plays On
The Monterey Jazz Festival's 50th Anniversary Band hits the road
Mūz
Garrett Wheeler decides to give dance a chance
Music and Nightlife Calendar Picks
Our critics pick this week's most interesting gigs.

MORE MUSIC AND NIGHTLIFE

MUSIC AND CLUBS LISTINGS

Morel Authority
This weekend's Fungus Faire celebrates the mighty mushroom.
Dish
When the winter blues set in, head south—or just order rum.

BOOK A RESTAURANT RESERVATION

FIND A RESTAURANT REVIEW

Breaking Out
Santa Cruz photographer Jana Marcus' groundbreaking exhibit on transgendered folk heads to Stanford.