April 16-23, 2008
home | the papers | metro santa cruz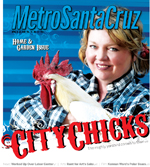 City Chicks
It's back to the country for our Home & Garden issue, where we find citydwellers raising chickens, contractors looking to the earth for their building materials and the looney wisdom of the Old Farmer's Almanac.
Swing, You Spinners
A fresh crop of dancers revitalizes contra in Santa Cruz.

Working it Out
Santa Cruz County wrestles with the idea of a day laborer center.
Nūz: Santa Cruz County News Briefs
Unembedded journalist Dahr Jamail makes his third stop at UCSC; Beach Flats gardeners submit a proposal to the city to keep their two-acre slice of paradise.

'Endangered'
Santa Cruz wildlife photographers Kennan and Karen Ward bring a world of exotic sounds and images to the Rio for Earth Day.
'Forgetting Sarah Marshall'
Judd Apetow just discovered penis humor.

MORE MOVIE REVIEWS

SANTA CRUZ COUNTY MOVIE TIMES

Tegan & Sara
The funniest act in indie rock heads to Santa Cruz's Rio Theatre this week.
Mūz
Reggae icon Don Carlos comes to Moe's Alley and the Brittania Arms Songwriter Showcase inches closer to a Santa Cruz County talent showdown.
Music and Nightlife Calendar Picks
Our critics pick this week's most interesting gigs.

MORE MUSIC AND NIGHTLIFE

MUSIC AND CLUBS LISTINGS

Farm to Fork
Broadcasting from KSCO in Santa Cruz, radio show host Michael Olson talks food and farming.
Dish
Fusion opens in the space formerly occupied by Pearl Alley Bistro.

BOOK A RESTAURANT RESERVATION

FIND A RESTAURANT REVIEW

Human Doings
A Bay Area-wide conceptual show opening at UCSC urges viewers to get active about art.
Golden Homeland
Santa Cruz author Jim Houston's love letter to California.