February 20-27, 2008
home | the papers | metro santa cruz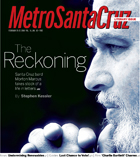 The Reckoning
Santa Cruz bard Morton Marcus takes stock of a life in letters.
Made in Santa Cruz
A roundup of offerings by local writers

Solar Eclipsed
Silicon Valley could lead the world in renewable energy technology--if only Washington would get out of the way.
Nūz: Santa Cruz County News Briefs
The anti-spray campaign gets a theme song; Monterey Bay National Marine Sanctuary gets serious about Marine Protected Areas.

Salinger's Day Off
'Charlie Bartlett' proves you can never be too rich or too derivative.

MORE MOVIE REVIEWS

SANTA CRUZ COUNTY MOVIE TIMES

What is Hip?
In defense of Celine Dion.
Worlds Away
Joe Strummer's soundtrack makes 'Walker.'
Music and Nightlife Calendar Picks
Our critics pick this week's most interesting gigs.

MORE MUSIC AND NIGHTLIFE

MUSIC AND CLUBS LISTINGS

Beyond Java
Santa Cruz coffee entrepreneur Manthri Srinath on the perfect cup.
Dish
Raw foodie Roxanne Klein heads to New Leaf to stump for a new line of packaged foods.

BOOK A RESTAURANT RESERVATION

FIND A RESTAURANT REVIEW

Out of the Box
DVD releases of 'Slings and Arrows' and 'Shadows of Forgotten Ancestors' shatter expectations.