February 13-20, 2008
home | the papers | metro santa cruz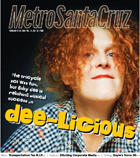 The Baroque and the Bizarre
Street performer-turned-musician Baby Dee puts the wacky back in the Santa Cruz Mountains this weekend.
Mainstream vs. Main Street
A Santa Cruz conference looks to overthrow corporate media in favor of citizen journalism.

Back to Square One
Last week, a long-sought transportation tax for the Santa Cruz area was strangled in its crib. Now what?
Nūz: Santa Cruz County News Briefs
Architects and county planners struggle over neighborhood compatibility rules; the 27th District Assembly race begins in earnest.

Canal Zone
Gunmen await orders 'In Bruges.'
Speak, Memory
Nostalgia for the Clinton era in 'Definitely, Maybe'

MORE MOVIE REVIEWS

SANTA CRUZ COUNTY MOVIE TIMES

Happy Campers
Sierra Leone's Refugee Allstars bring their high-energy show and upbeat message to Santa Cruz's Rio Theatre.
Mūz
In which a computer-driven performance at Santa Cruz's Metamusic prompts our columnist to pronounce piano teaching a dying profession.
Music and Nightlife Calendar Picks
Our critics pick this week's most interesting gigs.

MORE MUSIC AND NIGHTLIFE

MUSIC AND CLUBS LISTINGS

The Maestro Returns
Led by chef Giovanni Di Maio, the expert team at Tavernetta Limoncello is renewing Santa Cruz's love affair with Italian cuisine.
Dish
Gayle's Bakery & Rosticceria in Capitola turns 30! And more.

BOOK A RESTAURANT RESERVATION

FIND A RESTAURANT REVIEW

Slam Dunk
The Kinetic Poetics festival at UC-Santa Cruz scores big.