January 23-30, 2008
home | the papers | metro santa cruz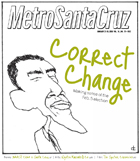 Poll Dance
This election season, don't believe anything you hear about term limits or casinos. Our endorsements for the Feb. 5 measures and candidates.

Bond's Issues
NAACP Chairman Julian Bond heads to Santa Cruz for a Jan. 30th engagement.
Nūz: Santa Cruz County News Briefs
Biofuels debunked, Santa Cruz gets bike-friendliness award and Arana Gulch bike path may head to courté again.

'Sputnik Mania'
A new documentary by Santa Cruz filmmaker David Hoffman shows how the world almost scared itself to death on the way to the Space Age.
Jewish Film Festival
The 8th annual fest, in Aptos and Santa Cruz this weekend, explores themes of Jewish religious and secular identity.

MORE MOVIE REVIEWS

SANTA CRUZ COUNTY MOVIE TIMES

The Lincoln Brigade
Wynton Marsalis and his Jazz at the Lincoln Center Orchestra head for Santa Cruz's Civic.
Music and Nightlife Calendar Picks
Our critics pick this week's most interesting gigs.

MORE MUSIC AND NIGHTLIFE

MUSIC AND CLUBS LISTINGS

Full Plate
Christina Waters interviews Capitola restauranteur Ted Burke on the occasion of Shadowbrook's 60th anniversary.
Dish
It's always teatime at Chaikhana on Cedar Street.

BOOK A RESTAURANT RESERVATION

FIND A RESTAURANT REVIEW

The Slow Burn
In 'Burning Daylight,' Santa Cruz poet Stephen Kessler continues a lifelong devotion to craft.
Hometown Hootenanny
Hayseed punk and former Mule Train member Paul M. Davis returns to Santa Cruz for a show at the Poet.
Ooh La La
A new book explores the mystery of France as viewed by American moviegoers.