January 30 - February 6, 2008
home | the papers | metro santa cruz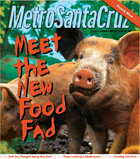 The Meat of The Matter
The back-to-the-pasture movement lets carnivores feel good about themselves again.

Dirty Little Surprise
Santa Cruz's new Styrofoam bans aren't just better for the ocean, they're a boon for the buttercups.
Nūz: Santa Cruz County News Briefs
SPLAT, confetti, goop, wasps—the state's new weapons against the apple moth sound like a joke, but they're not.

It's Iranic
'Persepolis' turns a graphic novel into a classic of animation.

MORE MOVIE REVIEWS

SANTA CRUZ COUNTY MOVIE TIMES

Dampened Enthusiasm
Brittle tone mars Santa Cruz Symphony's rainy-day take on Tchaikovsky.
Mūz
Columnist Garrett Wheeler hits three stellar indie acts in one night.
Music and Nightlife Calendar Picks
Our critics pick this week's most interesting gigs.

MORE MUSIC AND NIGHTLIFE

MUSIC AND CLUBS LISTINGS

Go West, Thai Fan
Full flavor and enchanting ambience make Bangkok West in Aptos a worthy destination.
Dish
The Chocolate Festival is heading our way.

BOOK A RESTAURANT RESERVATION

FIND A RESTAURANT REVIEW

In the Land of the Albatross
Wildlife photographer and Santa Cruz resident Frans Lanting trains his lens on the world's most remarkable birds.
Running Meter
UCSC's Kinetic Poetics spoken word festival continues to build momentum.