01.30.08
home | metro santa cruz index | movies | current reviews | film review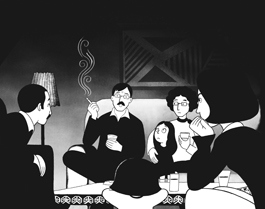 Photograph by Courtesy Sony Pictures Inc.
WHERE THERE'S SMOKE THERE'S FIRE: Marjane's family gets some disturbing information in 'Persepolis.'
It's Iranic
'Persepolis' turns a graphic novel into a classic of animation.
By Richard von Busack
I am of two minds about Persepolis, even though I happily put it on my 10 Best of 2007 list. The simple answer is that I am recommending it highly, as the best kind of cartoon—the one that takes a very specific situation and makes it universal. This is the animated version of a graphic-novel memoir of a female artist of good Iranian family. As she grows up in Tehran, Marjane Satrapi (voiced by Chiara Mastroianni) has her world closed in by the mullahs. She has an uncle who is arrested by both the shah and the clerics who followed that deluded emperor. The one unchanging part of her life is her august, wise grandmother (voiced by French film legend Danielle Darrieux). The young girl is lured to Europe by forbidden pop culture. When she arrives at her Austrian boarding school, it's only the memory of her grandmother's strength that saves her. On the page, Satrapi's drawings of herself are so minimal that they really only serve as a kind of word-balloon support for the text. In animation, the flatness, roundness and negative space are far more expressive—the way they are in Peanuts or Tintin comics. Even though it is a film of great importance (when ranking it, it's fair to ask what Lynda Barry would have done with similar material), I wanted more out of the finale than a vaguely written account of a divorce. (One gets the sense that Marjane leaves her husband because he watches Terminator movies on TV.)
As an animated film, Persepolis knows its genealogy. In the shadow-puppet-style flashbacks to the history of Iran, Satrapi and her co-director, Vincent Paronnaud, seem to refer to the very first feature-length cartoon, Lotte Reiniger's 1926 Adventures of Prince Achmed. The sleek figures, done in traditional hand-drawn animation, have the freshness and adventurousness of early UPA studios works. I particularly liked the Iranian women, in their black nunlike cloaks, all shaped like walking Parcheesi pieces. The visual styles evolve as the story travels. There are notes of Chagall in the Vienna sequences; the tilted buildings of German Expressionism frame Marjane as she gets her heart broken by an unfaithful boyfriend. It's probably too simplistic to do The Wizard of Oz dichotomy between the colorful life in France and the black-and-white life in the Ayatollah-plagued Iran. It works, though, in the context of a cartoon.
Persepolis does a first-rate job of outlining what it is like to be a teenager in religious dictatorship. With hideo-comic anecdotes, it addresses the restrictions, the armies of snitches and the proclamations of a deranged government, such as "the veil is a symbol of freedom." And it addresses this slow suffocation in a way any self-obsessed American teen could understand. Maybe if it had been more complex, it wouldn't be as easily understood. In almost every interaction, the sometimes princessy heroine is always the injured party. Some would say—looking around the United States for plentiful examples—that narcissism is a natural first response to watching your country crumble.
PERSEPOLIS (PG-13; 95 min.), directed and written by Marjane Satrapi and Vincent Paronnaud, with the voices of Chiara Mastroianni and Danielle Darrieux, opens Friday at the Nickelodeon in Santa Cruz.
Send a letter to the editor about this story.