01.30.08
home | metro santa cruz index | the arts | visual arts | review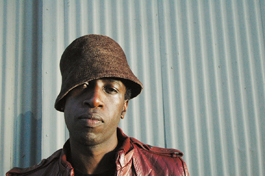 Sir Talksalot: Slam poetry star Saul Williams makes a Feb. 6 appearance at UCSC's Kinetic Poetics festival, the largest collegiate spoken-word party in the nation.
Running Meter
UCSC's Kinetic Poetics spoken word festival continues to build momentum.
By Steve Hahn
UCSC undergraduate Bryan Gigantino leans back in his chair, his eyes searching the ceiling. He is conjuring up memories from last year's Kinetic Poetics festival. It was the first time he'd ever seen slam poetry performed, and it absolutely blew him away. "I saw the festival the night Katie Wirsing performed and I just fell in love with it," Gigantino recalls. "When I can watch someone go on a stage to speak and feel their words in my spine—there's something magical about that."A scant year later, Gigantino is up to his neck in the UCSC slam poetry scene—competing, soaking up influences and even co-producing this year's festival, which happens this week on campus.
He has plenty of company. The UCSC Kinetic Poetics Project, completely organized by students, is the largest collegiate spoken-word festival in the nation, attracting such slam poetry royalty as Saul Williams, Katie Wirsing and Anis Mojgani.
In addition to bringing in some of the best and brightest of the slam poetry scene, the festival will feature a performance by the UCSC-based multicultural theater troupe Rainbow Theater. When festival co-producer Kevin Holmes thinks back to previous appearances by Rainbow Theater poet-actors at the festival, he can hardly contain his enthusiasm.
"It's a cross-pollinization of different art forms that can bash heads together, work through their differences and find something completely different than what you'd imagine," says Holmes, bolting up in his chair. "Every single year they bring some raw-ass shit. Their shit is so fucking real. Like, bam! In your face! Melt everything!"
For inspired audience members there will be a series of six spoken-word workshops, and at the end of the week a chance to step up to the stage and perform.
"It's great that anyone can pick it up and do it," says Holmes. "I'm really excited about this year because we have more workshops than we've had before."
Snagging Saul Williams—let alone getting him to agree not to charge a cover for his show—is a coup for the full-time students putting on the festival. After all, the last time Williams did a collaboration it was with Trent Reznor of Nine Inch Nails fame.
Other big names making an appearance at the festival include World Cup Poetry Slam Champion Anis Mojgani, queer activist poet Andrea Gibson and the hilarious HBO Def Jam poet Mike McGee.
Attracting this many famous poets to a free event at a remote wooded university could possibly be grounds for serious bragging. For the Kinetics Poetics crew, it's just another day working for the cause.
"We're doing what every city with a thriving poetry community is doing—spreading the poetry fever," says Holmes. "It's just a bunch of college kids doing our thing, and it gets bigger every year."
THE KINETIC POETICS PROJECT runs Feb. 3-6 at the Porter Dining Hall and Feb. 7 at the Cowell College Fireside Lounge, both at UCSC. Free admission, with $3-$12 suggested donation. 8pm each night. Full schedule at www.kineticspoetics.com.
Send a letter to the editor about this story.