February 6-12, 2008
home | the papers | metro santa cruz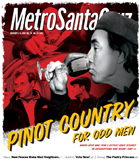 Pinot Country for Odd Men
A journey to Santa Cruz Mountain pinot noir territory.
Sexy Fun in the 831
Romantic getaways for Monterey Bay couples who hate to leave the area code.

Block Party
An absentee landlord, irate neighbors, the Catholic Church and a missing fence make for a heated battle over a Santa Cruz alleyway.
Nūz: Santa Cruz County News Briefs
Santa Cruz County's biggest non-city looks for a little respect, and a UCSC prof gets ready to launch a water research center.

Beyond Rangoon
Stallone goes on a ruthless, pointless tear in 'Rambo'

MORE MOVIE REVIEWS

SANTA CRUZ COUNTY MOVIE TIMES

Will Power
Guitarist Will Bernard lays down a jazz edge for Sonoma reggae outfit Groundation at the Catalyst.
Mūz
Columnist Garrett Wheeler on local musicians who keep it real.
Music and Nightlife Calendar Picks
Our critics pick this week's most interesting gigs.

MORE MUSIC AND NIGHTLIFE

MUSIC AND CLUBS LISTINGS

Sweet Dreams
Pastry chef Jessica Yarr transforms flour, butter, citrus and chocolate into edible artworks at Santa Cruz's Gabriella Café
Dish
Chef Jozseph Schultz makes 'Stone Soup' at the Actors' Theatre in Santa Cruz.

BOOK A RESTAURANT RESERVATION

FIND A RESTAURANT REVIEW

No Limit
The young dancers of Ailey II, on their way to Watsonville this week, push the athletic and artistic envelope.
Joint Effort
The collaboration behind Pisces Moon's production of 'Dead Man Walking.'