02.06.08
home | metro santa cruz index | the arts | stage | review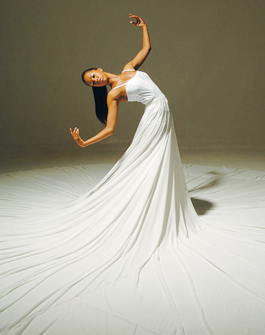 Swept Up: Ailey II, the risk-taking younger sibling to the Alvin Ailey American Dance Theater, comes to Watsonville's Mello Center this week.
No Limit
The young dancers of Ailey II, on their way to Watsonville this week, push the athletic and artistic envelope.
By Jean Stirling
I wanted to be like them, the ultimate dancers," said Josh Johnson, easing into our phone conversation as he watched the flat West Texas landscape go by from his bus window. "It's the ultimate way to connect mind, body, emotion, spirit—my ultimate form of expression."
Dancing since he was 14, Johnson saw the Alvin Ailey American Dance Theater perform when he was in high school and wanted nothing more than to be part of it. Now 20, Johnson is on a rare third year with Ailey II. The company, a sort of traveling laboratory, was founded by the groundbreaking dancer-choreographer Alvin Ailey when he realized that his premiere company was so busy performing and touring that he needed another company on which to try out his new ideas. Ailey himself originally hand-picked the most gifted from among the rigorously trained and dedicated youths in his company school to experience this ultimate initiation into the life of a professional dancer.
This week, the bus carrying Johnson and the other young Ailey II dancers rolls into Watsonville for a Feb. 11 performance at the Mello Center. It's Johnson's last tour with Ailey II, but by all accounts he has learned all that the road had to teach him. He will have visited 20 cities during the course of this touring season and 40 each year for the last two years.
"I got to see a lot of America, some really beautiful cities I didn't even know existed," he said, undaunted at the two annual nine-week tours, the ambitious round of performances when the company returns home in New York and the 10 to 12 hours of classes and rehearsals five days a week. They are all to be expected. This is a challenging apprenticeship for a demanding career, and Johnson's grateful for the opportunity Ailey II provides.
"My goal is to be accepted into the first company, and sometime, too, I want to dance with Compañía Nacional de Danza in Spain," he says. There he would work with Nacho Duato, a choreographer whose work he admires. Duato's dances, like Ailey's, "deal with sensitive topics, interpret human possibilities and get to dramatics through the body."
"Alvin Ailey embraced all forms of dance—ballet, modern, jazz, ethnic—his work was and is accessible, humanistic, about people and the human condition," said Ailey II director Sylvia Waters, reached in her Texas hotel room. Waters was a principal dancer with Ailey; shortly before his death in 1989, he chose her to continue his work tempering young dancers, performing works from his own legacy and premiering new works by emerging American choreographers.
"Even his most abstract work has a really human basis." Ailey was born in Rogers, Texas, to a 17-year-old mother who was abandoned by his father six months later. Cotton picking, domestic service and hunger were the constants in his childhood. Though his mother also briefly abandoned him, they were reunited in Los Angeles, where he studied with modern dance pioneers like Martha Graham, Lester Horton and Katherine Dunham, then gained fame onstage as a dancer and in films like Carmen Jones.
It was in his own choreography, however, that Ailey shaped the legacy of these pioneers to his own vision. His most timeless creations—including Blues Suite, first performed in New York in 1958, then Revelations, which premiered two years later—plumbed the African American roots of his childhood.
At the Mello Center, Ailey II will perform three works, including Revelations. Considered the quintessential Ailey dance work, Revelations is a masterpiece of modern dance that draws on the Southern Baptist ceremonies Ailey remembered from his childhood. Nevertheless, it celebrates religious faith with a universality that transcends a single race or religion.
''Its roots are in American Negro culture, which is part of the whole country's heritage," Ailey was quoted as saying in The New York Times, "but the dance speaks to everyone."
Waters is proud that "more than half of the [premier] company has come out of Ailey II," and many of her dancers have gained international fame as soloists. "It takes a lot to be a dancer and only makes sense if this is something you need to do," she says.
Josh Johnson agrees. "It's the ultimate challenge, to push yourself as far as the movement can take you, to take it as far as you can go."
AILEY II performs Monday, Feb. 11, at 8pm at the Henry J. Mello Center, 250 E. Beach St., Watsonville. Tickets are $20-$40; call 831.459.2159 or visit www.santacruztickets.com.
Send a letter to the editor about this story.