02.06.08
home | metro santa cruz index | santa cruz county restaurants | review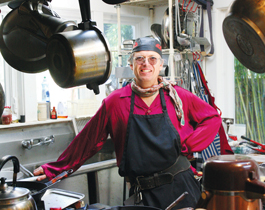 Photograph by Carlie Statsky
Rock Star: Chef Jozseph Schultz will whip up something tasty following Sunday productions of 'Stone Soup' at Actors' Theater.
Dish
Chef Jozseph Schultz makes 'Stone Soup' at the Actors' Theatre in Santa Cruz.
By Amber Turpin
Nuts for Soup
Local dancer and actor Rivera Cook has collaborated with the Actors' Theatre to present us with the world premiere of Stone Soup, a dramatization of the beloved fable about scarcity, cooperation and people sharing a much-appreciated meal together. In the true spirit of the story, chef Jozseph Schultz will be contributing his cooking talents to "Stone Soup Sundays," an opportunity to enjoy some communal soup together after each 3pm Sunday matinee. Just bring your ticket stub, one raw ingredient, a bowl and a spoon, and Schultz will conjure up a delectable community feast.
Stone Soup runs at the Actors' Theatre on Center Street from Feb. 22 through March 16. Call 831.425. PLAY for information or visit the Civic Auditorium for advance tickets.
Scurry Up
The Year of the Rat dawns on Feb. 7, and Chinese tradition calls for a huge feast on the eve of the New Year. This dinner reunites family around a table laden with symbolic foods and dishes, such as the vegetarian "jai" with bamboo shoots, dried bean curd, black moss seaweed, ginkgo nut and lotus seed, all of which have specific meanings. Fish is commonly served to signify liveliness and abundance; chicken for prosperity, happiness and marriage; and egg-based items for fertility in the coming year. (Tofu is avoided because the color white indicates death and misfortune.) Several foods have names that in Chinese dialects sound like other phrases for good fortune. Last year I went out to the Golden Buddha in Soquel with the goal of ordering as many lucky dishes as possible—and 2007 was pretty good to me. As with other traditional New Year's foods like black-eyed peas, the intention, ritual and belief are enough to bring good fortune for the coming year. And it's another great excuse to have a party.
Wuv! Twoo Wuv!
Still searching for some Valentine's Day inspiration? There are a lot of romance-worthy happenings in the area. Silver Mountain Vineyard has two events that sound tempting. The first is a wine and chocolate pairing on Friday, Feb. 8. at the Cannery Row tasting room. The following Sunday, Feb. 10, the winery is hosting its Pucker Up & Kiss Me tannins tasting, featuring wine, chocolate, coffee, tea and nuts—all containing mysterious tannic compounds that contribute to these foods' much-loved complexity and unique character in the kitchen. While there, pick up a bottle or two of Tony Craig's Sonnet label for a truly poetic 14th. Craig is not only Silver Mountain's consulting winemaker, but also a Shakespearean actor: hence this wine's lovely name.On the big day, take someone special to a Valentine's themed Cookin at the Kuumbwa dinner and Tuck & Patti show. Chef Cheryl Simons will prepare miso-glazed halibut in carrot-ginger broth with baby root vegetables and classic chocolate soufflé for dessert. Another Monterey event is the Valentine's Passport program on Saturday, Feb. 16. from 10am to 4pm. The 10 vintners that line the River Road Wine Trail are hosting special tastings "in celebration of all things amour." Call 831.386.0316 for more info.
Send a letter to the editor about this story.