02.06.08
home | metro santa cruz index | santa cruz county restaurants | review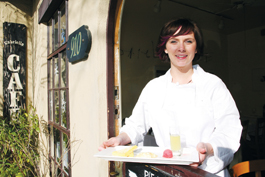 Photograph by Carlie Statsky
Pushing the hard stuff: Jessica Yarr wants you to blow your diet.
Sweet Dreams
Pastry chef Jessica Yarr transforms flour, butter, citrus and chocolate into edible artworks at Santa Cruz's Gabriella Café
By Christina Waters
Even with a culinary degree, a restaurant résumé and a dream job designing a nightly array of pastry poetics, Jessica Yarr is barely into her 20s. A Santa Cruz native, Yarr hit the kitchen running, starting as a kid cooking meals at home, including entire Thanksgiving dinners, and whipped through culinary school and a gig at Theo's before coming to Gabriella Café.
As we discuss her work, an apprentice slowly pours deep chocolate ganache over dozens of Yarr's petite mousse cakes. The sight is spellbinding. "Those are chocolate red wine cakes," Yarr explains. "They'll be served with a chocolate ice milk on the side and a merlot sauce squiggled onto a square plate." She demonstrates. The frosted cake, with its mirror finish of deep chocolate, is placed just so on top of the squiggles. Beautiful. "Then I'll finish it with some piece of fruit, like a branch of currants or whatever is in season."
Yarr's day begins at 4:30am, when she can be alone in the tiny Gabriella kitchen and spread out with all of her baking equipment. After coming up with a baking game plan, she works on all the desserts at once. Right now she's working with unusual citruses, a good winter choice.
"And chocolate is always a winner. I like to make stuff that's challenging."
Yarr bakes two long mornings a week. "On Fridays I'll make 35 portions of each dessert, and then on Monday again. During the week I might fill in any items we need." What if she makes too many? "We try not to let that happen," she laughs. "But if it does, we offer desserts to the staff."
The house signature dessert is Meyer lemon tart, which Yarr is currently doing with a spiced Cara Cara orange foam and blood orange sorbet. I take a bite as she continues.
"I love the rush of doing savory food," she says, acknowledging her three years working her way to sous-chef at Theo's. "But nothing is as challenging as pastry—and getting to have my own little territory."
Things can go wrong. If a cake doesn't rise, you simply have to start over again. And she has.
"I did a flourless chocolate cake recently that was just too thin. When I unmolded it, it crumbled. So I redid it and added a little more flour. That worked."
Panna cotta is the easiest, she reveals. "And I'd say that the most difficult are things like the chocolate cake dessert that has so many different steps. And tarts—getting the crust just right. It's challenging making a really flaky crust."
Nice to know it's not just me.
Yarr says she's lucky to have her mother help out with her young child, who attends preschool three days a week. "I try to make it out of here by 12 or 1 and pick up my daughter. Sometimes I come back in the early afternoon and do demo plates for the staff, talk with waitresses and show them how to serve the dessert. Then Sean [Baker, Gabriella's chef] tastes everything before I leave. I like working with the seasons, and I love exotic ingredients." For a recent menu she created a special of maple star anise mousse with caramelized pears.
"It's important to be cohesive with your chef—I adapt my work to his menu," she says of Baker. "Our creative vision is a lot alike. It's important to stay seasonal and fresh—and don't try to turn things into what they're not.
"Clear, direct flavors are her specialty, as the intense, almost mystically pure triangle of freshly made lemon tart reveals. I can find only exquisite Meyer lemon authenticity. A light crust, with the slightest sense of crunch and an expert balance of sweet, tart, salty and sour. This is my idea of a perfect dessert—one you'd want for your last meal on earth. Yarr agrees.
"Lemon is refreshing at the end of a big meal—it's definitely a popular flavor." She levels her dark eyes straight at me. "People who cook are very passionate. You have to be strong to stay focused and work in a kitchen with other people."Yarr admits that cooks are emotional about their creations. "If something doesn't work, it's devastating. After all it's your blood, sweat and tears.
"I love what I do," she smiles and heads back to the pastry area, where rows of vermilion persimmons are ready to become sorbet.
Send a letter to the editor about this story.