March 5 - 12, 2008
home | the papers | metro santa cruz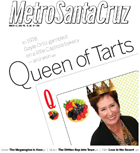 Queen of Tarts
Thirty years ago Gayle Ortiz gambled on a little Capitola bakery and won.

Geographica Gigantea
What do Santa Cruz, Milpitas and Reno have in common? They're all part of the brand new Northern California Megaregion.
Nūz: Santa Cruz County News Briefs
Santa Cruz braces for a cycling-related lawsuit, People Power wins a temporary restraining order in the Mission Hill alleyway squabble, Santa Cruz lawmakers raise eyebrows at governor's plans for the Delta, and Sen. Simitian loses his place at the Budget Committee table.

Mad Money
Money can't buy happiness, but it can buy you a few more weeks of life in 'The Counterfeiters'
Band Apart
Egyptian musicians wander into a strange Israeli village in 'The Band's Visit'

MORE MOVIE REVIEWS

SANTA CRUZ COUNTY MOVIE TIMES

Loony Tunes
The Ditty Bops bring another whimsical musical performance to Santa Cruz.
Big Band Theory
The 18-piece Bjorkestra pays tribute to the enigmatic Icelander this weekend at Moe's Alley in Santa Cruz.
In The Key of Di
Cabrillo College hosts a rising young star of classical piano, Di Wu.
Home Team
The Rec League All-Stars are putting Santa Cruz hip-hop on the map.
Muz
Free Fridays at the Catalyst: what's not to love?
Music and Nightlife Calendar Picks
Our critics pick this week's most interesting gigs.

MORE MUSIC AND NIGHTLIFE

MUSIC AND CLUBS LISTINGS

Academic Appetite
At UCSC's Terra Fresca, Chef de Cuisine Jamie Smith gets fresh on a daily basis.
Dish
Verve Coffee Roasters keeps Eastsiders jumping.