February 27 - March 5, 2008
home | the papers | metro santa cruz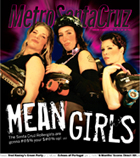 Down & Derby
With their first bout just two weeks away, the Santa Cruz Rollergirls pledge to roll over the competition.

Crayons Down!
How an ill-advised initiative to test Head Start preschoolers blew through $100 million and backfired on the Bush administration.
Nūz: Santa Cruz County News Briefs
Keeley joins People Power; CSUMB board considers KUSP-KAZU merger; Santa Cruz buses convert to natural gas.

'4 Months, 3 Weeks, 2 Days'
With typical communist efficiency, the best movie of 2007 arrives in 2008.
A Long Way Down
Santa Cruz climber Chris Sharma and other extreme athletes star in the BANFF Mountain Film Festival.
Screen Savers
Santa Cruz's own EarthVision Film Fest presents real solutions to environmental problems.

MORE MOVIE REVIEWS

SANTA CRUZ COUNTY MOVIE TIMES

Fabulous Fadista
Ramana Vieira brings her new take on an old art form to Kuumbwa.
Muz
Columnist Garrett Wheeler's close encounter with reggae superstars Midnite at the Santa Cruz Dayz show.
Music and Nightlife Calendar Picks
Our critics pick this week's most interesting gigs.

MORE MUSIC AND NIGHTLIFE

MUSIC AND CLUBS LISTINGS

Mondo Salsa
Lunch at Santa Cruz's Taqueria La Caba-a specializes in soccer, salsa and serious tacos.
Dish
The Santa Cruz Mountains were well represented at the SF Chronicle wine competition.

BOOK A RESTAURANT RESERVATION

FIND A RESTAURANT REVIEW

Buried Treasure
A new documentary by Bill Rose examines the life of Elizabeth Wiltsee, mad genius of Watsonville.