March 12-19, 2008
home | the papers | metro santa cruz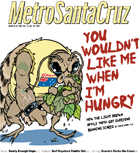 Invasive Procedures
The moth crisis in Santa Cruz and elsewhere prompts experts to ask: does it make sense to try to wipe out exotic pests in an era of globalization?
Pacific Air Time
World surf kayaking champ and Santa Cruz local Rusty Sage finds new ways to get airborne

Trouble Brewing
A massive hops shortage and barley slow-down have the microbrew industry on the boil.
Nūz: Santa Cruz County News Briefs
FLOW temporarily prevails over Cal-Am in court, Santa Cruz nursery Blue Bamboo is the first commercial victim of LBAM, Sprenger's mystery survey and Mayor Coonerty's interview on 'Lou Dobbs.'

The Tudors
Battling royals Scarlett and Natalie duke it out in 'The Other Boleyn Girl.'
The Gruesome Twosome
'Funny Games' is here to teach you something or other.
Diary of the Dead Films
It still takes brains to appreciate George Romero's zombies.

MORE MOVIE REVIEWS

SANTA CRUZ COUNTY MOVIE TIMES

Divined Intervention
Inspired by a found recording, Brazilian pianist and singer Eliane Elias decided to pay tribute to her hero Bill Evans.
Muz
Billy Martini puts on a Kiss-worthy show in Felton.
Music and Nightlife Calendar Picks
Our critics pick this week's most interesting gigs.

MORE MUSIC AND NIGHTLIFE

MUSIC AND CLUBS LISTINGS

Road Trip
A palate-pampering pilgrimage to Pescadero legend Duarte's
Dish
This year St. Patrick's Day is on a Monday. So: celebrate this Friday.