March 26-April 2, 2008
home | the papers | metro santa cruz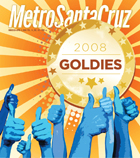 Goldies 2008
The people have spoken. And the winners of the Metro Santa Cruz 2008 Goldies awards for the best that Santa Cruz has to offer are...
Food & Drink
:
Readers Poll
|
Editor's Picks
Arts & Culture
:
Readers Poll
|
Editor's Picks
Music & Nightlife
:
Readers Poll
|
Editor's Picks
Goods & Services
:
Readers Poll
|
Editor's Picks
Peoples & Places
:
Readers Poll
|
Editor's Picks

Map Quest
A scientist from the Monterey Bay Aquarium Research Institute calls for more study of sites off the Central Coast where tons of chemical weapons were dumped.
Nūz: Santa Cruz County News Briefs
Betty Danner's law-and-order campaign for supervisor; Supervisor Ellen Pirie tries to salvage road repair funding from the wreckage of the transportation tax and a San Diego lawmaker takes aim at the Coastal Commission.

Run, Fat Boy, Run
Simon Pegg makes an unlikely long-distance runner in David Schwimmer's new feature film.
DVD Reviews
A Japanese silent classic is re-released, the works of Gaudi are examined and film noir takes to the high seas.
Cult Leader
The biggest mistake in remakes of Asian horror movies? Too much logic.

MORE MOVIE REVIEWS

SANTA CRUZ COUNTY MOVIE TIMES

Old School Party
The Santa Cruz Blues Festival lineup features Bonnie Raitt, a trio of last century's original bluesmen and the king of R&B, Al Green. Not a bad way to spend Memorial Day weekend.
Fan the Flames
Maori band Katchafire brings incendiary reggae to Santa Cruz.
Rise of the Demise
CDs trumped the LP, but with the advent of new download cards, vinyl is back.
Mod Squad
Giant Panda Guerrilla Dub Squad brings Empire State-style reggae to Moe's Alley.
Music and Nightlife Calendar Picks
Our critics pick this week's most interesting gigs.

MORE MUSIC AND NIGHTLIFE

MUSIC AND CLUBS LISTINGS

Wave of Espresso Chic Hits Opal Cliffs
No, there can't be too many coffeehouses in Santa Cruz, especially if they're as stylish as Verve.
Time on My Side Dish
The true timeline of one man's lunch.
Dish
Uncommon Brewers prepares to unleash Belgian-style goodness on Santa Cruz.

BOOK A RESTAURANT RESERVATION

FIND A RESTAURANT REVIEW

All-True Tales
Isabel Allende heads to Capitola Book Cafe to read from her new tell-all memoir.
The Master
A new biography of Henry James examines the writer's latter days.