March 19-26, 2008
home | the papers | metro santa cruz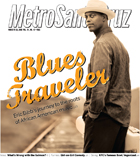 Blues Traveler
W.C. Handy Award nominee Eric Bibb brings his genre-busting blend of blues and roots music to the Kuumbwa in Santa Cruz.
Touching A Nerve
Does the G-Spot really exist?

Stock Crash
Plummeting salmon populations mean the commercial salmon season won't happen in Monterey Bay--and all the experts have are theories.
Nūz: Santa Cruz County News Briefs
Tree-sitter responds to Judge Burdick's March 10 ruling, Bill Monning wins grassroots Dem support and medical marijuana cards get really high.

Past Imperfect
Roland Emmerich's '10,000 B.C.' rewrites prehistory
Cult Leader
The flawed genius behind the 'Bladerunner' myth

MORE MOVIE REVIEWS

SANTA CRUZ COUNTY MOVIE TIMES

They Are Legion
The Russian Circles bring their orchestrated metal head-drone to The Crepe Place in Santa Cruz.
Muz
Metal nostalgia band Archer rocks Henfling's to within inches of its life.
Music and Nightlife Calendar Picks
Our critics pick this week's most interesting gigs.

MORE MUSIC AND NIGHTLIFE

MUSIC AND CLUBS LISTINGS

Natural Attitude
Taking the surf 'n' turf concept personally, Dirty Girl Produce entrepreneur Joe Schirmer nurtures his organic roots.
The Infamous Bowl
Why should carnivores have all the fun? KFC's bestselling smorgie gets a vegan makeover.
Dish
Pebble Beach Food & Wine picks up where Masters of Food & Wine left off.

BOOK A RESTAURANT RESERVATION

FIND A RESTAURANT REVIEW

Ladies' Night
The Queer Queens of Qomedy make a beeline for one of their favorite destinations: Santa Cruz.
Western Words
Philip Fradkin's biography of author Wallace Stegner traces a life larger than the Western landscape.