April 2-9, 2008
home | the papers | metro santa cruz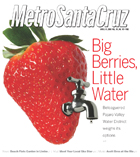 Big Berries, Little Water
The beleaguered Pajaro Valley water district considers its options.

Seeds of Change
Committed volunteers (no flakes, please) could save the Beach Flats Community Garden.
Nūz: Santa Cruz County News Briefs
TA watershed moment for affordable housing in Santa Cruz County; the 27th District Assembly race remains tight; and UFOs rock Capitola.

Mountain Mixologists
Pop-punk-grungegrass heroes Avett Brothers head for Santa Cruz's Rio Theatre.
Erin Calling
Fiddle-guitar duo Martin Hayes and Dennis Cahill bring Ireland to Kuumbwa.
The Score
The Santa Cruz Chamber Orchestra teams with the Ariose Singers for an evening of adventurous programming.
Music and Nightlife Calendar Picks
Our critics pick this week's most interesting gigs.

MORE MUSIC AND NIGHTLIFE

MUSIC AND CLUBS LISTINGS

Ice House
The domestic dramas in 'Snow Angels' leave a chill.
E.T. Goes East
Stephen Chow's odd-duck extraterrestrial movie 'CJ7' is for eclectic kids.

MORE MOVIE REVIEWS

SANTA CRUZ COUNTY MOVIE TIMES

The Seed Queen
Felton seed purveyor Renee Shepherd's name is firmly planted in the minds of serious gardeners.
Dish
Gabriella Café is up for sale.