April 30 - May 7, 2008
home | the papers | metro santa cruz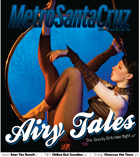 Airy Tales
The Gravity Girls take flight over Santa Cruz in celebration of National Dance Week. Plus: dancing in the streets, a week's worth of free dance classes and one woman's dance with hula.

Watching The Enforcers
The local chapter of Surfrider scrutinizes Capitola for enforcement of the polystyrene ban.
Not Fade Away
The Grateful Dead archives come home to Santa Cruz.
Nūz: Santa Cruz County News Briefs
UCSC College Republicans protest the beer tax, the San Lorenzo River gets some love, Palestinian ambassador Afif Safieh heads to the Monterey Bay and the CASS music video contest enters the homestretch.

Senior Classics
'[email protected]' travels with a chorus that goes noisily into that good night.
My So-Called Life
The memory of a high school tragedy haunts a grown woman in 'The Life Before Her Eyes'

MORE MOVIE REVIEWS

SANTA CRUZ COUNTY MOVIE TIMES

Oregon's Odyssey
The jazz quartet's 40-year journey through the musical universe ends up at home.
Music and Nightlife Calendar Picks
Our critics pick this week's most interesting gigs.

MORE MUSIC AND NIGHTLIFE

MUSIC AND CLUBS LISTINGS

Vinocruz'n
J-P Correa is the on-site tour guide at the boutique treasury of all-star Santa Cruz Mountains wines known as Vinocruz
Dish
Eating all you can at Ben Lomond's Tyrolean Inn.

BOOK A RESTAURANT RESERVATION

FIND A RESTAURANT REVIEW

Turning Point
Two graphic works of nonfiction explore the Hoover years and the Students for a Democratic Society.