April 23-30, 2008
home | the papers | metro santa cruz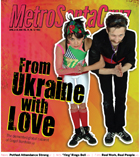 Rock for Revolutionaries
The superhuman superrebellion of Gogol Bordello

Will Walk for Stash
Santa Cruz 4/20 festivalgoers step around new campus rules.
Nūz: Santa Cruz County News Briefs
Cyclists ask for a sign on Mission Street; Ecology Action launches its green clearinghouse site and Santa Cruz's first Green Drinks party is a hit.

Workers of the World
For two weeks in Santa Cruz, the Reel Work Film Festival explores ordinary lives in New England, Oaxaca and everywhere between.

MORE MOVIE REVIEWS

SANTA CRUZ COUNTY MOVIE TIMES

Grounded Star
Multiplatinum Australian artist John Butler is just a grassroots kind of guy.
Velvet Curtain
The women of Kitka bring their gorgeous Eastern European vocal stylings to Kuumbwa.
Mūz
Elvis Costello's 'Momofuku' is worth dusting off the turntable
Music and Nightlife Calendar Picks
Our critics pick this week's most interesting gigs.

MORE MUSIC AND NIGHTLIFE

MUSIC AND CLUBS LISTINGS

Whale of A Deal
Just north of town on Highway 1, the Davenport Roadhouse offers lunch values beyond the scenic setting.
Dish
Santa Cruz develops some new foodie meccas.

BOOK A RESTAURANT RESERVATION

FIND A RESTAURANT REVIEW

Change Dynasty
An ambitious exhibit at MAH examines a rapidly evolving China from the Santa Cruz perspective.