07.16.08
home | the papers | metro santa cruz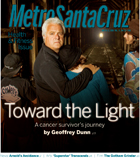 The Cancer Chronicles
For our Health and Fitness issue, Santa Cruz author Geoffrey Dunn travels back three years, to his diagnosis of advanced colorectal cancer. Also, CrossFit will get you ripped in a half hour a day--if you can hack it.

California's Money is Burning
While the governor poses with firefighters, the state legislature battles a multi-billion-dollar deficit. Eric Johnson gets the lowdown from Santa Cruz Assemblyman John Laird, chair of the budget committee.
The Cure for High Commodity Prices
Ted Rall makes the case for nationalizing key industries.
Nūz: Santa Cruz County News Briefs
CDFA welcomes wary Monterey Bay LBAM activists to its next confab, and Day on the Beach enters its 16th year of helping disabled folk enjoy the waves.

The Fright Club
Chris Nolan's 'The Dark Knight' shows us the Joker's life as a dog.
Schlagered
A big fat Greek wedding offers excuse to revisit the songs of ABBA in 'Mamma Mia!'
To 'Hellboy' and Back
'Golden Army' sequel has uncanny moments but turns mundane by the end.

MORE MOVIE REVIEWS

SANTA CRUZ COUNTY MOVIE TIMES

Roots Music
Cuban saxophonist Yosvany Terry dives deep into the Afro-Caribbean legacy for his Kuumbwa show this week.
Going for Baroque
The Carmel Bach Festival explores the work of Heinrich Schütz and other Bach predecessors.
Punk, Undead
L.A.'s Mika Miko heads to Santa Cruz with a satchel of restless punk for now people.
Music and Nightlife Calendar Picks
Jefferson Starship, Trombone Shorty, Groundation and Das Vibenbass head to Santa Cruz clubs this week, along with a slew of other acts.

MORE MUSIC AND NIGHTLIFE

MUSIC AND CLUBS LISTINGS

Review: Full Fusion Finesse
Sophistication and freshness make Fusion an attractive dining surprise
Dish
It's official: Ingalls Street is Santa Cruz's new wine hub.

BOOK A RESTAURANT RESERVATION

FIND A RESTAURANT REVIEW

What Would Jesus Sing?
Cabrillo Stage's 'Jesus Christ Superstar' is part human, part divine.