May 28 - June 4, 2008
home | the papers | metro santa cruz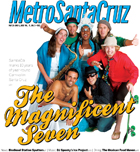 A Brazilian Thing
SambaDá marks a decade of making Santa Cruz think it can dance the samba.
Cache Economy
In the strange world of geocaching, hidden stashes of useless trinkets are the highest value.

Glove Love is Still The Best Love
With a new CDC study bringing the big bad back to sex, Matthew Craggs investigates Santa Cruz's STD rate.
Nūz: Santa Cruz County News Briefs
Santa Cruz's only biodiesel station folds, the Summit Fire mellows and the county budget cuts hit the weakest the hardest--but not because anyone wants it that way. Also: Metro Santa Cruz's endorsements for Tuesday's primary election.

Opium
Tarsem's dazzling 'The Fall' honors the primal power of movie images
Indy Film
A fast start leads to dashed hopes in 'Indiana Jones and the Kingdom of the Crystal Skull.'

MORE MOVIE REVIEWS

SANTA CRUZ COUNTY MOVIE TIMES

Melting Zone
For the upcoming 01SJ tech-arts festival, DJ Spooky creates art out of climate change.
Mūz
Garrett Wheeler rocks his face off at the Santa Cruz Blues Fest.
Music and Nightlife Calendar Picks
Our critics pick this week's most interesting gigs.

MORE MUSIC AND NIGHTLIFE

MUSIC AND CLUBS LISTINGS

Holy Mole!
Diana Kennedy, doyenne of Mexican cooking, is coming to Santa Cruz.
Dish
The Monterey Bay Culinary Arts Institute gets the go-ahead to open shop in the old Lipton building.

BOOK A RESTAURANT RESERVATION

FIND A RESTAURANT REVIEW

Generational Shift
The next crop of artists is on exhibit in UCSC's Irwin Scholars show, opening this weekend.
Moving Pieces
The Tannery hosts a dance a day for 24 days.