07.02.08
home | the papers | metro santa cruz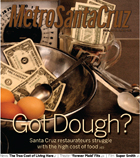 Going Lean
Soaring fuel costs are powering food service sticker shock. Here's how a few Santa Cruz restaurants and bakeries are dealing with ballooning expenses.
Bees 'R' Us
One couple's quest to save unwanted bees

Insufficient Funds
Here's what it really costs to live in Santa Cruz County--and no, minimum wage doesn't cut it.
Nūz: Santa Cruz County News Briefs
Clueless anarchists strike green business, the County Supes try to patch up the hole in the human services budget and the Delaware Ave. project lumbers over its first hurdle.

Review: Hancock
Leave it to a superhero movie to show the softer side of Will Smith.
Review: Savage Grace
Julianne Moore can't save 'Savage Grace' from sleaze.

MORE MOVIE REVIEWS

SANTA CRUZ COUNTY MOVIE TIMES

Fright Night
Sleepytime Gorilla Museum gets all gothic and odd at the Brookdale Inn.
Mūz
Garrett Wheeler discovers epic emo-pop.
Music and Nightlife Calendar Picks
Coming to a Santa Cruz stage near you: the Rev. Horton Heat, Mike Ness, Robben Ford, the Red Elvises and more.

MORE MUSIC AND NIGHTLIFE

MUSIC AND CLUBS LISTINGS

Global Worming
If lobster and oysters, why not crickets and grasshoppers?
Dish
Uncie Ro's pizza, the Fourth of July at the Little Red Schoolhouse and Cambodian food in Scotts Valley

BOOK A RESTAURANT RESERVATION

FIND A RESTAURANT REVIEW

The Plaidders
Cabrillo Stage's 'Forever Plaid' is corny and uneven--and ultimately entertaining.
The Hot Type
Sexy smarts and ribald humor in 'Dirty Words,' a literary guide to all things erotic.
Thirty-Day Wonder
A luminous month of cutting-edge dance closes at the Tannery.