June 25 - July 2, 2008
home | the papers | metro santa cruz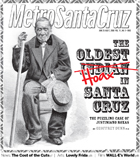 Deconstructing Roxas
Beneath the layers of mystery surrounding Santa Cruz's celebrated 'Chief Roxas' is a truth most of us would rather not see.

Slashed and Burned
A look at how $14 million in proposed cuts to county programs will play out for Santa Cruz County's most vulnerable residents.
Nūz: Santa Cruz County News Briefs
Save Our Shores rallies against offshore oil rigs (again), Tony Madrigal pares down dreams for Santa Cruz-wide wi-fi coverage and Scotts Valley prepares to nix Styrofoam.

Load Lifter
Pixar's 'WALL-E' makes us want to say, 'Domo arigato, Mr. Roboto.'
Siegfried's Revenge
'Get Smart' proves once again that Steve Carrell is a supporting actor.

MORE MOVIE REVIEWS

SANTA CRUZ COUNTY MOVIE TIMES

Mūz
On a rare warm night in Santa Cruz, Garrett Wheeler sets out on an old-fashioned mall crawl.
Music and Nightlife Calendar Picks
In Santa Cruz this week: The Indigo Girls, The Waifs, Les Dudek, The Greencards, The Wailing Souls, Todd Snider and more.

MORE MUSIC AND NIGHTLIFE

MUSIC AND CLUBS LISTINGS

Mezze Mystique
The ancient appeal of Mediterranean flavors gives Zameen a zesty edge.
Dish
Downtown's Khyber Pass leads to the Silk Road, and Dish examines what's new at the Felton Farmers Market.

BOOK A RESTAURANT RESERVATION

FIND A RESTAURANT REVIEW

Hairy and Smooth
SFMOMA salutes Mexican artist and icon Frida Kahlo at 100--dogs and monkeys, ribbons and bombs.
All's Well That Learns Well
A Cabrillo short course provides a road map to the summer's most popular stage performances.
Cosmic Joker
Swami Beyondananda travels to Santa Cruz in a bid to cure electile dysfunction.