June 4-11, 2008
home | the papers | metro santa cruz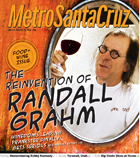 The Jester's Quest
In Bonny Doon's 25th year, trickster Randall Grahm gives up puns for the biodynamic revolution and makes a serious bid for his legacy
Farmed Fish Confidential
It's barbecue time. Do you know where your seafood has been?
Hot Potatoes
Talking food with Barack Obama
Dish
Bargetto Winery, Santa Cruz's oldest winemaker, turns 75.

What I Learned from Bobby Kennedy
With an eye on the present, a child of 1968 looks back on a pivotal day in a pivotal summer
Nūz: Santa Cruz County News Briefs
FLOW wrests Felton water system away from Cal-Am for a paltry $10 million, Assemblyman John Laird peddles clever car-tax-for-parks scheme, King Street considered for bike-friendly makeover and Sacramento lawmakers prepare to raid state transportation fund--again.

Emotional Rescue
Summoning the courage to mope in 'Fugitive Pieces'

MORE MOVIE REVIEWS

SANTA CRUZ COUNTY MOVIE TIMES

Ain't Misbehavin'
Kuumbwa's summer camp gives up-and-coming Santa Cruz jazz musicians a stage to strut upon
Soundgarden
It's an afternoon of contemporary classical delights at New Music Works' Avant Garden Party
Mūz
Radical folkie Utah Phillips departs for the great union hall in the sky.
Music and Nightlife Calendar Picks
Our critics pick this week's most interesting gigs.

MORE MUSIC AND NIGHTLIFE

MUSIC AND CLUBS LISTINGS


BOOK A RESTAURANT RESERVATION

FIND A RESTAURANT REVIEW

Out of The Shadows
Artists of national stature who call Santa Cruz home gather in a rare exhibit to benefit the Tannery