June 18-25, 2008
home | the papers | metro santa cruz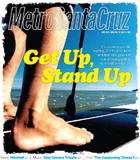 The Metro Santa Cruz Guide to Summertime Fun
Stand-up paddle surfing, DIY fruit rockets and more festivals than you can shake a kabob at in our annual manual of summer diversions.

I Now Pronounce You Party A and Party B
It was cheers and flowers as Santa Cruz County issued its first same-sex marriage license on June 17.
Higher Calling
How UCSC biologists helped bring back the peregrine falcon.
Nūz: Santa Cruz County News Briefs
Obama's sister visits Santa Cruz, the city breaks open its piggy bank and the county turns tiny roads over to homeowners.

Movie Review: The Happening
Not enough happens in M. Night Shyamalan's horror tale 'The Happening'
Movie Review: The Incredible Hulk
'The Incredible Hulk' has better effects but less affect than Ang Lee's version

MORE MOVIE REVIEWS

SANTA CRUZ COUNTY MOVIE TIMES

Honor The Father
Omar Spence and the White Album Ensemble pay tribute to the late great guitarist and longtime Santa Cruz resident Skip Spence.
Into the Black
Black Francis returns with quirk and rhyme to burn.
Mondo Mando
The mandolin comes out of the bluegrass closet at this week's Mandolin Symposium.
Mūz
Garrett Wheeler reflects on the new sound of California.
Music and Nightlife Calendar Picks
Our critics pick this week's most interesting gigs.

MORE MUSIC AND NIGHTLIFE

MUSIC AND CLUBS LISTINGS

Organic Odyssey
Weaving together a lifelong friendship, a passion for good food and a commitment to the environment, Heidi Schlecht and Amy Linstrom are Feel Good Foods
Dish
Gigantic pecan sandies and seven new ice cream flavors from Marini's.

BOOK A RESTAURANT RESERVATION

FIND A RESTAURANT REVIEW

Book Reviews
'The Hakawati' and 'The Taste of Place'