09.24.08
home | the papers | metro santa cruz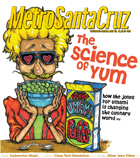 A Question of Taste
It's what makes babies love breast milk and the rest of us love Doritos. It's the secret weapon of Japanese chefs. It's umami--the taste you didn't know you couldn't get enough of--and scientists are finally beginning to understand why it's important.
Green Gold Rush
Silicon Valley's new new thing has its coming out at this weekend's West Coast Green.

Too Hot to Handle
The air quality district puts the kibosh on the controversial gasification plant planned for Santa Cruz's South County.
Nūz: Santa Cruz County News Briefs
Santa Cruz City Council nixes smoke at medical potfest, drumming activists accuse cops of going overboard at last week's market fracas and Live Oak School District rattles the tin cup.

Doctor at Sea
The sparks fail to fly in film version of Nicholas Sparks' 'Nights at Rodanthe.'
American Ugly
Thirteen will get you 20 in 'Towelhead,' Alan Ball's expose of racism and underage sexuality in America.
Reely Wild
The Radical Reels Film Fest returns to UC Santa Cruz with a screenful of truly sick sports.
DVD Reviews
Elia Kazan's 'Boomerang,' 'Never Love a Stranger' and 'Baby Mama' (out already?)

MORE MOVIE REVIEWS

SANTA CRUZ COUNTY MOVIE TIMES

Tone Poems
The Silver Jews go all melodic on their newest album.
A Season of Firsts
The Santa Cruz County Symphony enters year 51 in style.
Mūz
The Santa Cruz indie scene rallies around poster artist Stacie Willoughby in her time of need. That's rad.
Music and Nightlife Calendar Picks
Ill Bill, Vinyl and Zimbabwean chanteuse Chiwoniso head to Santa Cruz stages while the Festival in the Forest gets warmed up in Big Sur. Pegi Young (and we're guessing her famous husband) head to the Henry Miller Library.

MORE MUSIC AND NIGHTLIFE

MUSIC AND CLUBS LISTINGS

Surfing the Wine Trade
A new suite of tasting rooms joins the fun on Santa Cruz's Westside.
The Big Chill
A new class of 'anti-energy' drinks saunters into the marketplace
Dish
Sweets by David Kinch's sweetie. Where do we sign up?

BOOK A RESTAURANT RESERVATION

FIND A RESTAURANT REVIEW

Book Reviewsv
Restaurant tell-all 'Waiter Rant' and Paul Theroux's 'Ghost Train to the Eastern Star'

Letters to the Editor
September 24 - October 1, 2008