07.30.08
home | the papers | metro santa cruz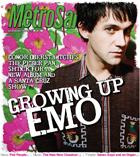 Self-Made Man
Conor Oberst makes tracks for Santa Cruz this weekend with an eponymous new release and a welcome dose of maturity.
Open Space Invaders
It looks peaceful enough at Pogonip, but as writer Camila Perez learns, indigenous species and newcomers are in pitched battle.

Unpaved New World
The Santa Cruz City Council takes the first tentative steps toward a future of pod-like rapid transit cars. Insanity or foresight? Stay tuned...
Nūz: Santa Cruz County News Briefs
If city planners get a new parking garage in downtown Santa Cruz, the farmers market will be out on its ear.

'Up the Yangtze'
Yung Chang's documentary shows us the cost paid by the children of the dam.

MORE MOVIE REVIEWS

SANTA CRUZ COUNTY MOVIE TIMES

Sparkle of the New
The Cabrillo Festival of Contemporary Music shatters expectations with an unprecedented number of premieres.
Mūz
Curtis Cartier makes his inaugural rounds as the new music columnist and finds big bad beats.
Music and Nightlife Calendar Picks
Po' Girl, the Biscuit Burners, John Ellis with Double-Wide, the One-Man Band Festival and Lodgeapalooza. Yowza, yowza, yowza.

MORE MUSIC AND NIGHTLIFE

MUSIC AND CLUBS LISTINGS

Silver Spurs and Golden Pancakes
Morning rituals make the world go 'round, and this one is worth getting up for.
Dish
Introducing Slow Food Nation, the World Series for foodies, coming to San Francisco over Labor Day.

BOOK A RESTAURANT RESERVATION

FIND A RESTAURANT REVIEW

No, You Can't
A new art exhibit explores how Watsonville's Latina workers threw the brakes on exploitation in the mid-1980s and forever changed the city
A Blockbuster Bach
The meta brilliance of Shakespeare Santa Cruz's 'Bach at Leipzig'
The High Price of Art
A Carmel theater pays tribute to artists who survived one of America's darkest chapters.