09.10.08
home | the papers | metro santa cruz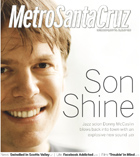 Torchbearer
Donny McCaslin learned improvisation at his dad's Cooper House jam sessions. Now the sax player returns to Santa Cruz on his own terms.
Addicted to Facebook
The lowdown on the social networking site that won't let you go if you're young and won't let you in if you're old.

Borrowed Time
The second in Paul Wagner's two-part series on the housing crisis examines a Scotts Valley family that got taken in and run around.
Nūz: Santa Cruz County News Briefs
We crunch the numbers on the failed Measure T, listen in to the Santa Cruz City Council Candidates' Forum on transportation and wonder what the hell has gotten into those drill-happy Santa Barbarans.

Raging Waters
'Trouble the Water' documents close up the efforts of the Ninth Ward to survive Hurricane Katrina.
DVD Reviews
Javier Bardem in 'Extasis,' an Errol Flynn collection and American Slapstick revisted.

MORE MOVIE REVIEWS

SANTA CRUZ COUNTY MOVIE TIMES

Mūz
Curtis Cartier shares a special moment with reggae star Lloyd Brown and Santa Cruz veteran skanker Haile Maskel.
Music and Nightlife Calendar Picks
Setting their sights on Surf City, U.S.A. this week: Afro-beat wonders Albino, pop punksters New Found Glory, blues man Elvin Bishop and SF hipsters Lord Loves A Working Man.

MORE MUSIC AND NIGHTLIFE

MUSIC AND CLUBS LISTINGS

Let's Go Grazy
Two dozen Santa Cruz chefs and wineries offer up samples of their best at this weekend's Grazing on the Green, and all for a good cause.
Dish
In the weeks ahead: a benefit for Santa Cruz vanilla goddess Patricia Rain and a Bonny Doon Vineyard-Blue Moon Organics harvest dinner. Yum.

BOOK A RESTAURANT RESERVATION

FIND A RESTAURANT REVIEW

Book Reviews
'Colosseum' and 'The Scotia Widows.'

Letters to the Editor
September 10-17, 2008