08.20.08
home | the papers | metro santa cruz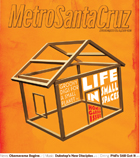 Small Space: The Final Frontier
Single-story detached homes are so ... 20th century

Dreams of Obama
Activist and retired lawmaker Tom Hayden on why Obama will disappoint--and why we should vote for him anyway.
Nūz: Santa Cruz County News Briefs
La Bahia critics erect their own damn story poles, district parks chief Chet Bardo takes the helm of a leaky boat and the harbor gets a big mop for cleaning up oil spills.

Getting Warmer
Ben Stiller approaches the platonic ideal of screwball comedy with 'Tropic Thunder.'
Four-Sided Triangle
Woody Allen returns to form with the comic romantic geometry of 'Vicky Cristina Barcelona.'

MORE MOVIE REVIEWS

SANTA CRUZ COUNTY MOVIE TIMES

Big in Sweden
Santa Cruz Goldie winner Archer is back from touring and rockin' like it's 1984.
Bass Therapy
Dubstep goes boom in Santa Cruz.
Mūz
Kaye Bohler bowls 'em over at Moe's Alley.
Music and Nightlife Calendar Picks
Nellie McKay, Santa Cruz's own LeBoeuf Brothers, GZA, the Gin Blossoms and Frank Black make tracks for Santa Cruz stages this week.

MORE MUSIC AND NIGHTLIFE

MUSIC AND CLUBS LISTINGS

Good Fishing at Phil's
For over 25 years, Phil and Judy DiGirolamo have given new meaning to the phrase 'catch of the day.'
Dish
The cheese whizzes at Harley Farms in Pescadero win big at the American Cheese Society Competition.

BOOK A RESTAURANT RESERVATION

FIND A RESTAURANT REVIEW