08.06.08
home | the papers | metro santa cruz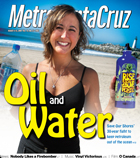 Oil and Water
Thirty years after forming to fight oil drilling off the Santa Cruz coast, Save Our Shores is still battling to keep petroleum out of the ocean.

Unpopularity Contest
Word to unhinged animal liberation activists: Santa Cruz locals aren't fond of firebombers.
Nūz: Santa Cruz County News Briefs
Brookdale Lodge bleach dump kills fish, KUSP takes a new tack on independent news, Pacific Biofuel is reborn as the Green Station and the Santa Cruz City Council gives the thumbs-up to the big-ass Delaware project.

Wax Monument
Metamusic in downtown Santa Cruz goes on the record.
Dazzling in Double-Time
Christopher Rouse's alternating-tempo concerto does the Cabrillo Festival proud.
Mūz
Music writer Curtis Cartier on Electronica 101
Music and Nightlife Calendar Picks
Eek-A-Mouse, the Yellowjackets, Moonalice and more gun for Santa Cruz stages this week.

MORE MUSIC AND NIGHTLIFE

MUSIC AND CLUBS LISTINGS

'Winnipeg Confidential'
Guy Maddin bathes in weird Canadian nostalgia in 'My Winnipeg'

MORE MOVIE REVIEWS

SANTA CRUZ COUNTY MOVIE TIMES

Hot Tomato
The incredibly versatile love apple is the New World's gift to everybody else.
Dish
It's picnic season in Santa Cruz. Do you know where your basket is?

BOOK A RESTAURANT RESERVATION

FIND A RESTAURANT REVIEW

No, You Can't
A new art exhibit explores how Watsonville's Latina workers threw the brakes on exploitation in the mid-1980s and forever changed the city
A Blockbuster Bach
The meta brilliance of Shakespeare Santa Cruz's 'Bach at Leipzig'
The High Price of Art
A Carmel theater pays tribute to artists who survived one of America's darkest chapters.
-->