09.03.08
home | the papers | metro santa cruz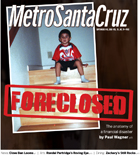 Home, Sweet Hell
Paul Wagner investigates how a family of Central Coast strawberry pickers lost it all in the housing boom.

The Candy-Flavored Cigarette Crackdown
Santa Cruz smoking enthusiasts tee off on a looming federal ban on cloves and flavored cigarettes.
Nūz: Santa Cruz County News Briefs
Scientists dis CDFA plan to release sterile male LBAMs, Arianna Huffington heads for the Central Coast, candidate forum season begins and Nuz ponders the naked truth behind a Santa Cruz County strip search settlement.

Lost Shoe Diary
A personals-ad date takes a sensitive filmmaker 'In Search of a Midnight Kiss'
Running Man
'Traitor': Tourists or terrorists? You decide.
DVD Reviews
Tyrone Power: Matinee Idol Collection, Joy House and Long Dream

MORE MOVIE REVIEWS

SANTA CRUZ COUNTY MOVIE TIMES

Mūz
Curtis Cartier on the, ah, challenges facing the best haunted rock 'n' roll venue in the San Lorenzo Valley.
Music and Nightlife Calendar Picks
Lucinda Williams, Vermillion Lies, Rebelution and more prepare to rock Santa Cruz this week.

MORE MUSIC AND NIGHTLIFE

MUSIC AND CLUBS LISTINGS

Zachary's at The Break of Day
Simple and delicious, the classic downtown eatery stands the test of time.
Dish
Mosey down the new Corralitos wine trail.

BOOK A RESTAURANT RESERVATION

FIND A RESTAURANT REVIEW

'The Secret of My Failure'
By the skin of his teeth, photographer Rondal Partridge eluded fame and fortune and their tedious consequences. He visits Santa Cruz this week.
Interview with Rondal Partridge Friday, Aug. 29, 2008

Book Reviews
'Postcards from the Trenches' and 'Postcards from the Russian Revolution;' 'This Land Is Their Land: Reports from A Divided Nation'

Letters to the Editor:
September 3-10, 2008