09.17.08
home | the papers | metro santa cruz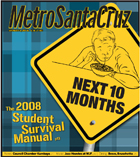 Student Survival Manual 2008
Our guide to getting by in the wilds of the greater Santa Cruz area.

Not Quite Fright Night
The Haunted Castle at the Santa Cruz Boardwalk gets a stay of execution before a major remodel--and a much-needed infusion of spooky.
Power to the People
Rejoice, Santa Cruz--the Bike Church co-op is taking its egalitarian model and expanding into computer repair.
Nūz: Santa Cruz County News Briefs
Pigs fly! Santa Cruz City Council meeting sees neighbors and developers reach parking compromise on a mixed-use projec, and this weekend's Coastal Cleanup expands inland to our sadly polluted rivers.

Tortes and Tarts
In 'I Served the King of England,' a canny waiter dishes up some cheesecake for the ruling classes.
Burned
The Coen brothers' 'Burn After Reading' is a subterfuge centrifuge, only without a center.

MORE MOVIE REVIEWS

SANTA CRUZ COUNTY MOVIE TIMES

The Hoi Polloi Boogie
Arena shmarena. At the 51st Annual Monterey Jazz Festival, the cheap tickets (otherwise known as the grounds passes) are where it's at.
Serbia Calling
European sensation Kal puts a fresh spin on Gypsy music at Don Quixote's this week.
Mūz
Curtis Cartier gets in a froth about an upcoming show of Santa Cruz indie stars Man/Miracle and the Vox Jaguars.
Music and Nightlife Calendar Picks
Critics' Picks: Tiger Army, X, Michael Franti and the Tannahill Weavers mix it up in the Cruz this week.

MORE MUSIC AND NIGHTLIFE

MUSIC AND CLUBS LISTINGS

Earthy Entrees at La Bruschetta
Scenic lunches and intimate evenings make La Bruschetta an obvious San Lorenzo Valley dining destination.
Notes from the Stash Master
It's easy to eat local in Santa Cruz during the summer. But winter's coming, and it's time to put up.
Dish
Moss Landing mushroom farmers and fancy lentil recipes.

BOOK A RESTAURANT RESERVATION

FIND A RESTAURANT REVIEW

'The Necklace'
Twelve women whose decision to co-own a diamond necklace inspired a book make tracks for the Capitola Book Caf.

Letters to the Editor
September 17-24, 2008