01.14.09
home | the papers | metro santa cruz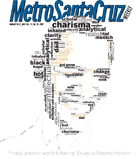 The Natural
This Tuesday the nation finally gets a leader worth following.

The Young and The Restless
Queer youth in Santa Cruz are forming communities of their own.
Stubborn in Sacramento
Central Coast Assemblyman Bill Monning gets a lesson in the politics of intractability.
Nūz: Santa Cruz County News Briefs
Workers are stunned by Cemex shutdown, Curtis Reliford gears up for another mission to Katrinaland and Inauguration Day promises to be one long party.

Fighting Back
Edward Zwick argues that resistance is good for the soul in real-life WWII drama 'Defiance.'
Jersey Bull
Mickey Rourke shows off his bruises and broken bones in 'The Wrestler.'

MORE MOVIE REVIEWS

SANTA CRUZ COUNTY MOVIE TIMES

The Blue Note Seven
Seven of jazz's brightest lights descend on Santa Cruz to celebrate the legendary label's anniversary.
Mūz
Santa Cruz metal is not dead, it just banged its head.
Music and Nightlife Calendar Picks
Proto-grunge rockers the Meat Puppets, local indie hero Mylo Jenkins, Santa Cruz funksters 300 Pounds and dance-spasoids Fishbone barrel onto Santa Cruz stages.

MORE MUSIC AND NIGHTLIFE

MUSIC AND CLUBS LISTINGS

O'Mei in the New Year
One of Santa Cruz's favorite Chinese restaurants continues to refresh its saucy culinary attitude.

BOOK A RESTAURANT RESERVATION

FIND A RESTAURANT REVIEW

Asylum Seeker
Author Norah Vincent takes on the mental health industry in a raw new memoir. She visits Bookshop Santa Cruz this week.

Letters to the Editor
January 14 - 21, 2009