01.07.09
home | the papers | metro santa cruz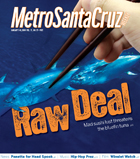 Hot Tuna
If we don't stop eating bluefin, there won't be any left to eat. Fortunately two Central Coast organizations are making it easier to do right by one of Nature's greatest predators.

Serious Shell Game
Watsonville struggles to keep a pernicious aquatic invader at bay.
Leon Panetta: The Intelligent Choice
The principled centrist who represented Monterey Bay in Washington for 16 years may be just the guy to fix the CIA.
Nūz: Santa Cruz County News Briefs
Panetta's short career in military intelligence; Scott Kennedy and Darryl Darling team up on Gaza ceasefire petition and a new report kids California poor grades on caring for kids.

Madame Winslet
As a Flaubert-style heroine, Kate Winslet's April never finds her Paris spring in 'Revolutionary Road.'
Book Club
'The Reader' wants to believe that a good book can save anybody, even Nazis.

MORE MOVIE REVIEWS

SANTA CRUZ COUNTY MOVIE TIMES

The Hip-Hop Presidency
How will Obama's presidency change the face of hip-hop?
Mūz
Curtis Cartier checks in with the musicians on Pacific Avenue for the winter edition of Streetlamp Spotlight.
Music and Nightlife Calendar Picks
Garaj Mahal, Coco Montoya, the Chop Tops and more head to Santa Cruz this week.

MORE MUSIC AND NIGHTLIFE

MUSIC AND CLUBS LISTINGS

Miraculous Mirepoix
Carrots, celery and onions: together they're the secret weapon of comfort food.

BOOK A RESTAURANT RESERVATION

FIND A RESTAURANT REVIEW

Blithe Spirit
Every stunt looked effortless in the exuberant silent films of Douglas Fairbanks.

Letters to the Editor
January 7 - 14, 2009