12.10.08
home | the papers | metro santa cruz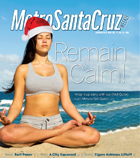 The (Not Quite) Last Minute Gift Guide
Because there's no time like today to ward off the panic of tomorrow.

Current Events
A demonstration by Silicon Valley invention powerhouse SRI finds electricity in the waves that made Santa Cruz famous.
Solidarity in City Hall
Even employees who are spared the sword feel the pain from sweeping cuts to Santa Cruz's budget.
Nūz: Santa Cruz County News Briefs
A bridge-building moment in Watsonville politics meets something less than euphoria.

Bombay Talkie
'Slumdog Millionaire' is half cuddly and half chilling, and the two halves don't fit
Cinematic Christmas Criminals
A therapist and a critic wonder what makes bad guys so appealing in good times.
DVD Reviews
A Few Kilos of Dates for a Funeral, Mystery Science Theater 3000: 20th Anniversary Edition and One Touch of Venus

MORE MOVIE REVIEWS

SANTA CRUZ COUNTY MOVIE TIMES

Happy Hunting
Jazz axe man Charlie Hunter heads to Santa Cruz, his first self-released album in tow.
Hot Spots
Santa Cruz indie luminaries Sleepy Sun burn bright with a new album, a forthcoming tour and a Saturday gig opening for Mudhoney.
Mūz
Santa Cruz's first recording studio cooperative releases 'The Sounds of the San Lorenzo,' a massive compilation of local musicians.
Music and Nightlife Calendar Picks
Mudhoney, Hoobastank, Melvin Seals and the Dead Kenny G's make tracks for Santa Cruz venues.

MORE MUSIC AND NIGHTLIFE

MUSIC AND CLUBS LISTINGS

Doonright Amazing
Bonny Doon Winery's new Cafe Le Cigare Volant delights and amazes.

BOOK A RESTAURANT RESERVATION

FIND A RESTAURANT REVIEW

Critical Closeness
Roger Ebert likes Martin Scorsese's movies a little too much in a new book of reviews and interviews

Letters to the Editor
December 10-17, 2008