12.03.08
home | the papers | metro santa cruz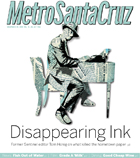 The Daily Grind
The former editor of the Santa Cruz Sentinel explains how corporate indifference and the Internet gutted the hometown paper.

Troubled Waters
The Golden State's trout and salmon are in peril, and that's bad news for humans.
Toxic Talk
Environmental health officials vouch for scientist's independence as rumors swirl in Davenport.
All the Town's a Stage
Arts Master Plan in hand, Santa Cruz prepares for its role as arts community.
Nūz: Santa Cruz County News Briefs
Madrigal ekes out a victory over Terrazas for Santa Cruz council seat, and Watsonville gets in a snit over name change to strawberry festival.

A Sense of Hope
Sean Penn's 'Milk' is audacious and fun to watch--the last thing you'd expect from a martyr's biopic.
Czech Mates
Moving back home doesn't solve a woman's problems in 'Beauty in Trouble.'
DVD Reviews
The Bill Douglas Trilogy, Chaplin: 15th Anniversary Edition and Thomas Kinkade's Christmas Cottage

MORE MOVIE REVIEWS

SANTA CRUZ COUNTY MOVIE TIMES

Mūz
Curtis Cartier gets to the root of the Cypress Lounge.
Music and Nightlife Calendar Picks
The B-Side Players, Parliament's Eric McFadden and local singer-songwriter Michael Gaither set up on Santa Cruz stages this week.

MORE MUSIC AND NIGHTLIFE

MUSIC AND CLUBS LISTINGS

Liquid Assets
In which Christina Waters instructs us on how not to break the bank on holiday wine.

BOOK A RESTAURANT RESERVATION

FIND A RESTAURANT REVIEW

Broken Truths
Environmental writer Terry Tempest Williams comes to Capitola Book Café to read from her latest.

Letters to the Editor
December 3-10, 2008