10.22.08
home | the papers | metro santa cruz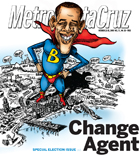 Election Issue
Metro Santa Cruz makes endorsements for a boatload of state and local races, state props and local measures, including some surprises. Plus, why we're endorsing Barack Obama and think he'll rescue the economy.

Watsonville On The Edge
The most important community in South Santa Cruz County this election year doesn't even exist yet.
Time for Treatment?
Prop. 5 expands drug rehab programs created by voters' 2000 approval of Prop. 36.
Nūz: Santa Cruz County News Briefs
'Yes on 8' mailer takes Danner campaign by surprise; Santa Cruz PD spokesman Zach Friend joins Team Obama in Philadelphia.

The Bushmaster
'W' charts POTUS' life, from hollaback boy to the White House in three decades.
DVD Reviews
Yasujiro Ozu's 'An Autumn Afternoon,' 'Delicatessen' and 'Mobile'

MORE MOVIE REVIEWS

SANTA CRUZ COUNTY MOVIE TIMES

Blue Skies
Back on the circuit after three stormy decades, Phoebe Snow heads for the Rio in Santa Cruz.
Mūz
Curtis Cartier salutes the three places in town where you can still find the mighty compact disc.
Music and Nightlife Calendar Picks
Indie darling Jenny Lewis, clodpunkers Hillstomp and former Soundgardener Chris Cornell make tracks for Santa Cruz venues.

MORE MUSIC AND NIGHTLIFE

MUSIC AND CLUBS LISTINGS

Preservationist's Society
Canning and kibitzing at Happy Girl's Aromas headquarters
Stalking the Great Pumpkin
The pumpkin patches of North Santa Cruz County offer good gourds a-plenty.
Dish
Seafood Watch takes on its greatest challenge yet: sustainable sushi.

BOOK A RESTAURANT RESERVATION

FIND A RESTAURANT REVIEW

He Make Funny All Day
David Sedaris plumbs the depths of bad French, too many cigarettes and coming out of the closet at the Santa Cruz Civic this weekend.

Letters to the Editor
October 22-29, 2008