10.08.08
home | the papers | metro santa cruz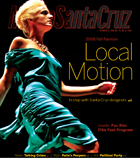 Santa Cruz Style
Local designers and trends rock our fall fashion issue.

Shades of Green
This election, voting the eco way isn't as obvious as it seems. Santa Cruz greenies weigh in on Props 7 and 10.
Nūz: Santa Cruz County News Briefs
District 1 supe candidates take potshots over crime, animal researcher protection bill passes and 911 tax proponents in Watsonville and the county hope to learn from Santa Cruz's hard lessons.

Duke Amuck
Fiennes, Knightley and director Saul Dibb all don various corsets in 'The Duchess.'
Faithless
Bill Maher explores the relationship between God and man in 'Religulous.'

MORE MOVIE REVIEWS

SANTA CRUZ COUNTY MOVIE TIMES

Everything Old is 'New' Again
Old favorites of the avant-garde are dusted off for New Music Works' 30th anniversary season.
Mūz
Curtis Cartier takes a listen to Santa Cruz folkies Amanda West and Hip City Cruz.
Music and Nightlife Calendar Picks
Rumbache, Chris Cain, Aza and the Babatunde Lea Quartet gear up for Santa Cruz shows.

MORE MUSIC AND NIGHTLIFE

MUSIC AND CLUBS LISTINGS

Sacred Grounds
Abbey Coffee serves up expertly made java in a beautiful space.
Dish
Coffeemaking lessons at Verve and an apple gala at the Redman House

BOOK A RESTAURANT RESERVATION

FIND A RESTAURANT REVIEW

A Call to Arms
From Santa Cruz to New York, the Art of Democracy movement is rallying counterculture.

Letters to the Editor
October 8-15, 2008