10.15.08
home | the papers | metro santa cruz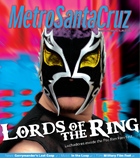 Get a Grip
UCSC filmmaker Gustavo Vazquez and his luchadores storm the 20th Pacific Rim Film Festival.

Tenth Time's A Charm
Prop 11 could be California's political salvation.
Left and Center
Vying for Santa Cruz City Council this year it's the Young Turks vs. the Old Hippies vs. the Even Older Hippies, and it's going to be close.
Nūz: Santa Cruz County News Briefs
The Cemex plant in Davenport could have been unwittingly releasing chromium 6 into the air for the last seven years.

Movies in the Mess Hall
'Iron Ladies of Liberia' screens at an innovative military-civilian film symposium in Monterey.
Spy Story
Ridley Scott fires at will in 'Body of Lies.'

MORE MOVIE REVIEWS

SANTA CRUZ COUNTY MOVIE TIMES

Strum, Rinse, Repeat
Santa Cruz gets into the rhythm of the Looping Festival.
World Beats
The Santa Cruz Chamber Players open an eclectic 30th season.
Mūz
Curtis Cartier catches up with some enterprising Santa Cruz street musicians.
Music and Nightlife Calendar Picks
Dar Williams, Grupo Fantasma, Eliza Gilkyson and Carll Hayes join the stampede to Santa Cruz stages.

MORE MUSIC AND NIGHTLIFE

MUSIC AND CLUBS LISTINGS

Asian Imagination
Won over by casual exotica at Jia Tella's in Scotts Valley.
Dish
Ambrosia Indian Bistro comes to Aptos.

BOOK A RESTAURANT RESERVATION

FIND A RESTAURANT REVIEW


Letters to the Editor
October 15-22, 2008