11.26.08
home | the papers | metro santa cruz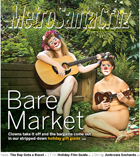 Bare Market
Clowns take it off and the bargains come out in the stripped-down Metro Santa Cruz Holiday Gift Guide. Included: Our guide to cheap local treasures, the Naked Clown Calendar, . the perils of DIY gifts, DIY resources, gifts for jazz lovers, gifts for hip-hop lovers, books you'll want to keep for yourself and DVDsworth watching again and again.
Righting Wrongs
Winners of the Santa Cruz Amnesty International-United Nations Association high school essay contest weigh in on the importance of human rights.
Growing Real Change
Watsonville farmer Andy Griffin hopes change is coming to America's food policy--and to its close cousin, immigration policy.

Flow Chart
The Monterey Bay National Marine Sanctuary gets tougher federal protections, and a nationwide system of ocean reserves becomes official.
The Shrinking School
Chromium-6 worries have parents pulling kids from Davenport's Pacific Elementary School.
Nūz: Santa Cruz County News Briefs
Outgoing Assemblyman John Laird lands a job; more.

Anime House
A universe of moist-eyed urchins and automatons prepares to invade the Central Coast during this weekend's Anime After Dark festival.
Big and Bold
This holiday season's cinematic offerings go for bluster and bombast.
Natural Sprawl
Just like the continent, Baz Luhrmann's 'Australia' is all over the map.

MORE MOVIE REVIEWS

SANTA CRUZ COUNTY MOVIE TIMES

Santa Cruz Troubadour
Keith Greeninger's charmed musical life
Mūz
Curtis Cartier attends his first Sourgrass concert and comes away a convert.
Music and Nightlife Calendar Picks
Devil Makes Three, Jackie Greene and New Riders of the Purple Sage light up Santa Cruz stages this week.

MORE MUSIC AND NIGHTLIFE

MUSIC AND CLUBS LISTINGS

Praise Ganesha, Pass the Chutney!
Ambrosia India Bistro brings the vivacious cooking of India to Aptos.

BOOK A RESTAURANT RESERVATION

FIND A RESTAURANT REVIEW

Union of the States
Literary stars and fascinating insights in a big-thinking compendium of essays on the 50 states

Letters to the Editor
November 26 - December 3, 2008