10.29.08
home | the papers | metro santa cruz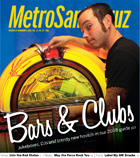 2008 Bars & Clubs
Metro Santa Cruz investigates the demise of the jukebox, top Santa Cruz DJs, new trends in booze and destination cocktails in our 2008 Bars & Clubs issue.
Standup Get-ups
This Halloween, try a little creativity.

Red State, Blue State
KUSP talk show host Rose Aguilar's quest to understand Red State America.
Nūz: Santa Cruz County News Briefs
Places to be on election night; the 'scaled back' La Bahia.

The Big Knife
'What Just Happened?' is a comedy--if only in the sense that everyone in the movie is miserable.
DVD Reviews
'Before the Rains,' 'Bright Lights, Big City' and the Busby Berkeley Collection

MORE MOVIE REVIEWS

SANTA CRUZ COUNTY MOVIE TIMES

Full Force
Jedi Mind Tricks reunite the Order at the Catalyst.
Yokelele
Sourdough Slim yodels his way to Felton this week.
Mūz
Soquel High grads Dub Congress share the stage with the mighty Skatalites, and Curtis Cartier sees the whole thing.
Music and Nightlife Calendar Picks
Fishbone, SambaDa and Warrior King make this the scariest Halloween ever, while Toubab Krewe and Zach Hill help round out the week.

MORE MUSIC AND NIGHTLIFE

MUSIC AND CLUBS LISTINGS

Animal Pharm
The FDA's lax approach to labeling foods from GM animals comes under fire.
Dish
Black Ridge Vineyard and Jennifer Ashby's crafted chocolates.

BOOK A RESTAURANT RESERVATION

FIND A RESTAURANT REVIEW


Letters to the Editor
October 29 - November 5, 2008