12.17.08
home | the papers | metro santa cruz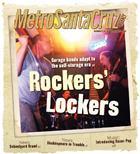 Unlock & Roll
Santa Cruz garage bands adapt to the self-storage era.

Classroom Struggle
What went wrong between nationally ranked Pacific Collegiate School and the Santa Cruz City Schools district.
Nūz: Santa Cruz County News Briefs
Shakespeare Santa Cruz rattles the tin cup, treesitters crawl down from their perches and Dist. 27 Assemblyman Bill Monning lands a spot on the emergency budget committee.

Jellyfish
'Seven Pounds' reveals Will Smith to be the urban Ben Affleck.
'Nothing' Much
'Nothing Like Christmas' is 'Nothing Like the Holidays'--only Puerto Rican.
DVD Reviews
'Billy the Kid,' 'Quo Vadis' and 'Polar Express'

MORE MOVIE REVIEWS

SANTA CRUZ COUNTY MOVIE TIMES

Very Tiny Songs
Razor-pop heralds a minimalist musical era.
Heartbreak Beats
Cathartic and computerized, Kanye West 2.0 arrives with mixed results.
Mūz
Saturday's Mudhoney show at the Rio proved the last generation's still got it.
Music and Nightlife Calendar Picks
New Orleans' Girlyman, Leon Russell and the Crooked Stills head to Santa Cruz while the Crepe Place gets ready for a two-day indie blowout.

MORE MUSIC AND NIGHTLIFE

MUSIC AND CLUBS LISTINGS

Apple butter:
it's a pain, but it's worth it.

BOOK A RESTAURANT RESERVATION

FIND A RESTAURANT REVIEW


Letters to the Editor
December 17-24, 2008