12.31.08
home | the papers | metro santa cruz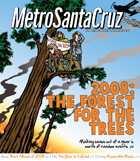 What Just Happened?
Making sense of the protests, wildfires, meltdowns and mayhem that defined 2008.
Plus: The Rittenhouse building gets its day in the court of professional opinion. And what was with all those stabbings?

Off the Streets
Teens of the Santa Cruz Red Cross work to keep other kids from getting behind the wheel after drinking.
Nūz: Santa Cruz County News Briefs
Think Local First makes a national splash, and California sends more than half its trash to the recycling bin.

Dark Nights
The year's movies were all about being afraid.
Tom at War
'Valkyrie' is a tense thriller despite Cruise.
Hangdog
Owen Wilson learns some life lessons from a seriously cute puppy in 'Marley & Me.'

MORE MOVIE REVIEWS

SANTA CRUZ COUNTY MOVIE TIMES

Trash Talk and Mashups
Paul Davis runs down the best albums of 2008
A Very Good Year
Andy Gilbert's take on the hottest jazz of the year
Mūz
In which Curtis Cartier gets the lowdown on the local compilation album 'Santa Cruz Jazz 2008.'
Music and Nightlife Calendar Picks


MORE MUSIC AND NIGHTLIFE

MUSIC AND CLUBS LISTINGS

Everyday Magic
Christina Waters on the most memorable meals of the year, in Santa Cruz and abraod.

BOOK A RESTAURANT RESERVATION

FIND A RESTAURANT REVIEW


Letters to the Editor
December 31, 2008 - January 7, 2009