01.21.09
home | the papers | metro santa cruz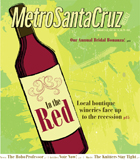 Over A Barrel
Economic struggles and shrinking distribution are becoming a huge buzz kill for vintners in the Santa Cruz Mountains and neighboring AVAs.
Special Section: Weddings
Material Witness
The search for a bridal dress can lead to unexpected discoveries. Also, we get the skinny on Santa Cruz bridal shops, and brides answer our nosy questions about their dresses in our Wedding Survey.

Sidewalk Professor
Six years ago Dennis Holt was teaching linguistics in Missoula, Montana. Today he busks on the streets of Santa Cruz. The story of an academic career derailed.
Nūz: Santa Cruz County News Briefs
Graffiti artists seize opportunity in Watsonville, the Beach Flats Community Center decides to go nonprofit and Santa Cruz pro-choice advocates celebrate 36 years of reproductive freedom.

The Jackal in Winter
'Frost/Nixon' allows us to relive the days when the devil got a second chance at redemption.

MORE MOVIE REVIEWS

SANTA CRUZ COUNTY MOVIE TIMES

White Punks on Dogie
John Doe and the rest of the Knitters head for Moe's Alley this weekend, their pioneering cowpunk legacy in tow.
Mūz
Curtis Cartier goes native with local indie acts Hod Hulphurs and Mylo Jenkins and gets acquainted with Washington state's Polka Dot Dot Dots.
Music and Nightlife Calendar Picks
Pepper's Sublime-style rock hits the Catalyst, the High Places get loft at the Crepe Place and Los Straitjackets shred at Moe's Alley in another week of good music on Santa Cruz stages.

MORE MUSIC AND NIGHTLIFE

MUSIC AND CLUBS LISTINGS

The Big Greasy
Welcome to the breakfast of champions.

BOOK A RESTAURANT RESERVATION

FIND A RESTAURANT REVIEW

The Soul of Wit
Biting comedy and strong acting make the 14th Annual Eight Tens Festival at Santa Cruz's Actors Theatre.

Letters to the Editor
January 21 - 28, 2009