02.04.09
home | the papers | metro santa cruz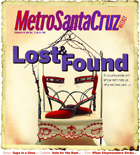 Construction Sights
An ambitious countywide art exhibit stokes Santa Cruz's love affair with assemblage and collage.
2009 Goldies Ballot
Vote for your favorites now!

Balancing Act
Are slow-growthers making a power grab on the Santa Cruz County Board of Supervisors or rectifying structural inequalities? Depends who you ask.
Nūz: Santa Cruz County News Briefs
Santa Cruz passes panhandling ordinances, MediaNews furloughs Sentinel employees and the Scopes Park mural stays.

Night Nurse
Elizabeth Banks stands out in horror remake 'The Uninvited.'

MORE MOVIE REVIEWS

SANTA CRUZ COUNTY MOVIE TIMES

Where the Heart Is
Led by UCSC alum Ben Goldberg, the all-star combo Go Home returns to jazz's roots.
To Russia, With Love
A Santa Cruz composer's tribute to Russian pianist Halida Dinova was inspired by his poet wife.
Mūz
Porn star Sasha Grey releases an experimental noise album that doesn't suck.
Music and Nightlife Calendar Picks
The Mighty Diamonds, Chuck Brodsky, the Dirty Dozen Brass Band and more set a course for Santa Cruz this week.

MORE MUSIC AND NIGHTLIFE

MUSIC AND CLUBS LISTINGS

Sake Country
Hollister's Ozeki celebrates its run as America's first sake brewery.

BOOK A RESTAURANT RESERVATION

FIND A RESTAURANT REVIEW


Letters to the Editor
February 4-11, 2009