06.24.09
home | the papers | metro santa cruz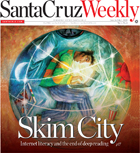 In Defense of Slow Reading
Has the relentless cacophony of Google culture made us dumb? An Internet junkie picks up a book and finds out.

Matters of Course
Economic downturn forces Santa Cruz to contemplate relinquishing the once-profitable De Laveaga Golf Course.
Analyze This
Police and sheriffs are dismayed at the thought of losing free state crime lab services.
Feelin' Fee
Volunteers just say no to state parks closures.
The Breakdown:
State Parks Access Pass
Activate:
The Santa Cruz County Board of Supervisors ends the tortured process of finalizing a budget on Thursday, June 25 at 10:45am at the county building, 701 Ocean St., Santa Cruz. This is the last chance to plea for favorite programs.

The Breeders
Dave and wife Vendela lay an Eggers in Gen-X family values sitcom "Away We Go."

MORE MOVIE REVIEWS

SANTA CRUZ COUNTY MOVIE TIMES

Blackberry Beret
The unmistakable Richard Thompson heads to Santa Cruz for a Saturday evening show.
Music and Nightlife Calendar Picks
Port O'Brien, Zigaboo Modeliste, Greensky Bluegrass and the Dave Nelson band this week on Santa Cruz stages.

MORE MUSIC AND NIGHTLIFE

MUSIC AND CLUBS LISTINGS

Ice, Ice, Baby
We all scream for Scream Sorbet's crazy good fresh fruit dessert.

BOOK A RESTAURANT RESERVATION

FIND A RESTAURANT REVIEW

Battle of The Bulge
Ripped rhomboids and buff biceps at the Santa Cruz Bodybuilding and Figure Championships.
Ten Questions for Miranda Janeschild
Owl Movement
The owlets roosting across from the Santa Cruz Police Department learn to fly and hunt on their own.

Letters to the Editor
June 24-July 1, 2009
Bullhorn:
District 27 Assemblyman Bill Monning advocates for a $15 vehicle registration fee to save the state parks. "Although deep cuts are necessary to balance the budget, how we make those cuts and how we advance alternatives will reflect our values as a state," he writes.