03.04.09
home | the papers | metro santa cruz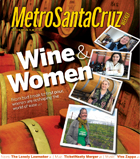 Women and Wine
From the vineyard to the tasting room, four women who are making their mark in the Santa Cruz wine industry.
2009 Goldies Ballot
Vote for your favorites now!

Something Fishy
Salmon conference comes to Santa Cruz with a spotlight on climate change and puzzling population crashes.
Nūz: Santa Cruz County News Briefs
Sen. Abel Maldonado's unpopularity campaign continues, Santa Cruz progressives challenge to Coonerty's UCSC deal, city smoking ban wafts into view and the Umbrella Man makes an appearance after a long absence.

Guerrilla Filmmaking
Steven Soderbergh and Benicio del Toro tell the story of revolutionary icon Che in two-part epic.
Mona Lisa
Love perseveres even in hard times in the fine romance 'Moscow, Belgium'

MORE MOVIE REVIEWS

SANTA CRUZ COUNTY MOVIE TIMES

Keepin' it Greasy
Dweezil Zappa does Father Frank proud in his tribute, Zappa Plays Zappa.
Wide Open
Folkies Chris and Thomas explore music's white spaces.
Mūz
Why you should fear and loathe an idea called Live Nation Entertainment.
Music and Nightlife Calendar Picks
Cuban sensations Tiempo Libre, trailblazers Akron/Family, rock icons Los Lobos and Woodstock-era legend Richie Havens appear in Santa Cruz this week.

MORE MUSIC AND NIGHTLIFE

MUSIC AND CLUBS LISTINGS

Recession Soup
Want to be happy? Eat like the Cubans.

BOOK A RESTAURANT RESERVATION

FIND A RESTAURANT REVIEW

Supernatural Storytelling
Chitra Divakaruni, mistress of sumptuous narratives, delves into India's past in 'The Palace of Illusions.'
A Literary Lifetime
In Celebration of the Muse marks 27 years of giving women poets a well-lighted place to read their work.

Letters to the Editor
March 4-11, 2009