05.27.09
home | the papers | metro santa cruz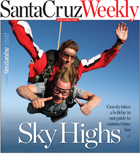 After the Freefall
Staff writer Curtis Cartier experiences the agony and the ecstasy of skydiving. Plus: ziplining through the redwoods, taking a ride on the Boardwalk's new Sea Swing and looking forward to a season of theater, contemporary classical music and sundry amusements in our annual guide to summertime fun.

What Now?
After a bruising special election, reform advocates prepare to make the case for meaningful change in Sacramento.
The Breakdown:
The Healthy Families program, a safety net that's tearing.
Activate:
The Transition to Walkable Neighborhoods community meeting is Thursday, May 28 at 7pm at the Police Community Room, 155 Center St., Santa Cruz. If you've ever cowered at a crosswalk while cars hurtle past at 60 mph, consider attending.

Getting a Rise
Another classic from Pixar, 'Up' is both a wild ride and a serious tragedy.

MORE MOVIE REVIEWS

SANTA CRUZ COUNTY MOVIE TIMES

Walk-on Home Run
UCSC student Christine Le entered the Britannia Arms Songwriter Showcase on a whim--and won.
Music and Nightlife Calendar Picks
Experimental music fest at the Henry Miller Library, Jerry Joseph and the Jackmormons at Crepe Place and the JGB with Melvin Seals at Don Quixote's this week.

MORE MUSIC AND NIGHTLIFE

MUSIC AND CLUBS LISTINGS

Frontier Pizza
Redwood Pizzeria is an organic slice of Twin Peaks in downtown Felton.

BOOK A RESTAURANT RESERVATION

FIND A RESTAURANT REVIEW

Talent Show
The university's top student artists strut their stuff at the annual Irwin exhibit.
Ten Questions for Amber Coverdale Sumrall
Street Signs:
In search of refreshments and edification at the Memorial Day Civil War reenactments in Felton.

Letters to the Editor
May 27-June 3, 2009
Bullhorn:
Friends of Santa Cruz Parks executive director Bonny Hawley on the local parks/staycation connection.