03.11.09
home | the papers | metro santa cruz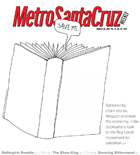 Buy Here Now
Santa Cruz's indie booksellers get hip to the new 'buy local' ethos.
Hell's Belles
Battered but wiser, the Santa Cruz Rollergirls blast into their second season.
2009 Goldies Ballot
Vote for your favorites now!

Food Fight
As New leaf and Whole Foods open brand new locations this week, the contest for the soul of the Santa Cruz shopper begins.
Cement Boots
Cemex halts production at its Davenport facility with little fanfare.
Nūz: Santa Cruz County News Briefs
Parents at Mountain Elementary School in Soquel have had it with cuts to education, and now they're fighting back.

Nocturnal Proclivities
'Watchmen' is the most divisive film since they buried Kubrick.
Boy Meets Girls
'Two Lovers' is a melodrama with little drama.
Lucy Come Home
Michelle Williams is a lost soul in 'Wendy and Lucy.'

MORE MOVIE REVIEWS

SANTA CRUZ COUNTY MOVIE TIMES

Blue Bloods
The Blues Festival announces another monster lineup--including B.B. King--for its May 23-24 date with Santa Cruz.
Mūz
Curtis Cartier drops in at the Britannia Arms Songwriters Showcase and finds a few new idols.
Music and Nightlife Calendar Picks
G Love and Special Sauce, songwriter Ana Egge, Afrobeat masters Aphrodesia and other glorious talents take to Santa Cruz stages this week.

MORE MUSIC AND NIGHTLIFE

MUSIC AND CLUBS LISTINGS

Beautiful Bittersweet
Big-city dining with an intimate attitude keeps Bittersweet Bistro on target.

BOOK A RESTAURANT RESERVATION

FIND A RESTAURANT REVIEW

Lovely Hula Hands
Santa Cruz's Te Hau Nui celebrates 10 years of hula on the Central Coast.

Letters to the Editor
March 11-18, 2009